10 Ways To Heat Up Your Greenhouse Without Electricity
In Mulberry Greenhouses, we know that the the cost of heating a greenhouse in winter can sometimes be greater than the savings and advantages of using one to grow your own.
Here are some cheap ways to heat-up a greenhouse without using electricity; Decomposing hay or straw bales, dust bin or old oil drum filled with water, even a rabbit hutch complete with rabbit will warm it up......More information on this page.
The main problem is heat-loss because Greenhouses are poorly insulated, making a few simple improvements to insulation will reduce the cost of heating a greenhouse in winter. Materials you can use to insulate your greenhouse include, Straw, Cardboard and Bubble wrap......  Read how to use them here........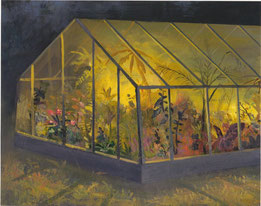 Paraffin heater, Straw, Cardboard, Bubble wrap, Decomposing Hay or Straw bales, Dust bin or old oil drum filled with water, even a Rabbit hutch complete with rabbit will warm it up. Read how to use them........
TIP 1: Mini plastic greenhouse. If you can't be bothered to bubble wrap your greenhouse but still want to grow plants in Winter try placing a cheap mini plastic greenhouses inside the glass greenhouse. 
TIP 2: Placing a Rabbit hutch in your greenhouse will help heat it up. A cheap way to heat your greenhouse, if you have a pet rabbit, is to place the hut inside the greenhouse, the heat it radiates will take the chill of the air. The rabbit might like it too. 
TIP 3: Composting Hay or Straw bales will heat up a greenhouse in winter. If you have enough floor space, try composting a bale, a composting bale gives off heat. You can also plant and grow stuff in the bale, so space may not be a problem for you. 
TIP 4: Dust bin or old oil drum filled with water saves greenhouse heating costs. Place a dust bin or old oil drum, inside your greenhouse and fill it with water. Water has a high specific heat (amount of energy needed to raise the temperature by one degree) and will absorb excess heat keeping the temperature down in the summer. The high specific heat of water will also allow it to hold onto the heat in winter and keep your greenhouse a few degrees warmer in the winter. Haven't tried this but it sounds as if it should work.
TIP 5: Paraffin heaters are simple to use and providing the greenhouse is less than 8ft long and well insulated, not too expensive to run.
TIP 6: Bubble wrap.  insulating a small greenhouse with bubble wrap is cheap and easy and will only take about an hour to wrap-up a small greenhouse.
TIP 7: Screening off part of the greenhouse with polythene and battens will limit the area to be heated.
TIP 8: Just a few plants. If you are not planting and growing through the winter, but just heating the whole greenhouse for a few less hardy plants, you might want to think about moving them into your house for the winter months. 
TIP 9: Sink the Greenhouse: While most of us think of basements as dingy, cold places, the truth is that underground is often warmer than above ground in the winter. The deeper into the earth we go, the more constant the temperature becomes, and the consistency is always above freezing. So, it's not a bad idea to sink the floor of the greenhouse to below the frostline; that way the warmer earth can help to moderate the temperature inside, and in the garden beds particularly.
TIP 10: Install Power-Free Heated Beds: 
As long as we are into making compost in the greenhouse, heating thermal mass barrels of water, constructing thermal mass raised beds, reflecting sunlight from the insulated north wall, and sinking the greenhouse into middle earth, it might be worth installing some solar water heating pipes on a closed loop to pump through the garden beds. These pipes can be coiled in the middle of the compost heap so that the warmth from it will heat the water, which can move through the pipes and heat the soil from within the garden beds.
By no means will these methods entirely replace a powered greenhouse kept at tropical temperatures, but they can keep a space warm enough for plants suited to temperate climates, likely several USDA zones warmer. Plus, a greenhouse like this will keep cold-hardy greens and vegetables growing all winter long, and once it's up, it doesn't cost a thing to keep warm.
Sources 1:
https://www.flowerpotman.com/greenhouse-gardening/winter-greenhouse-heating/
 Source 2:
https://www.onegreenplanet.org/lifestyle/keeping-the-greenhouse-warm-without-using-electricity/